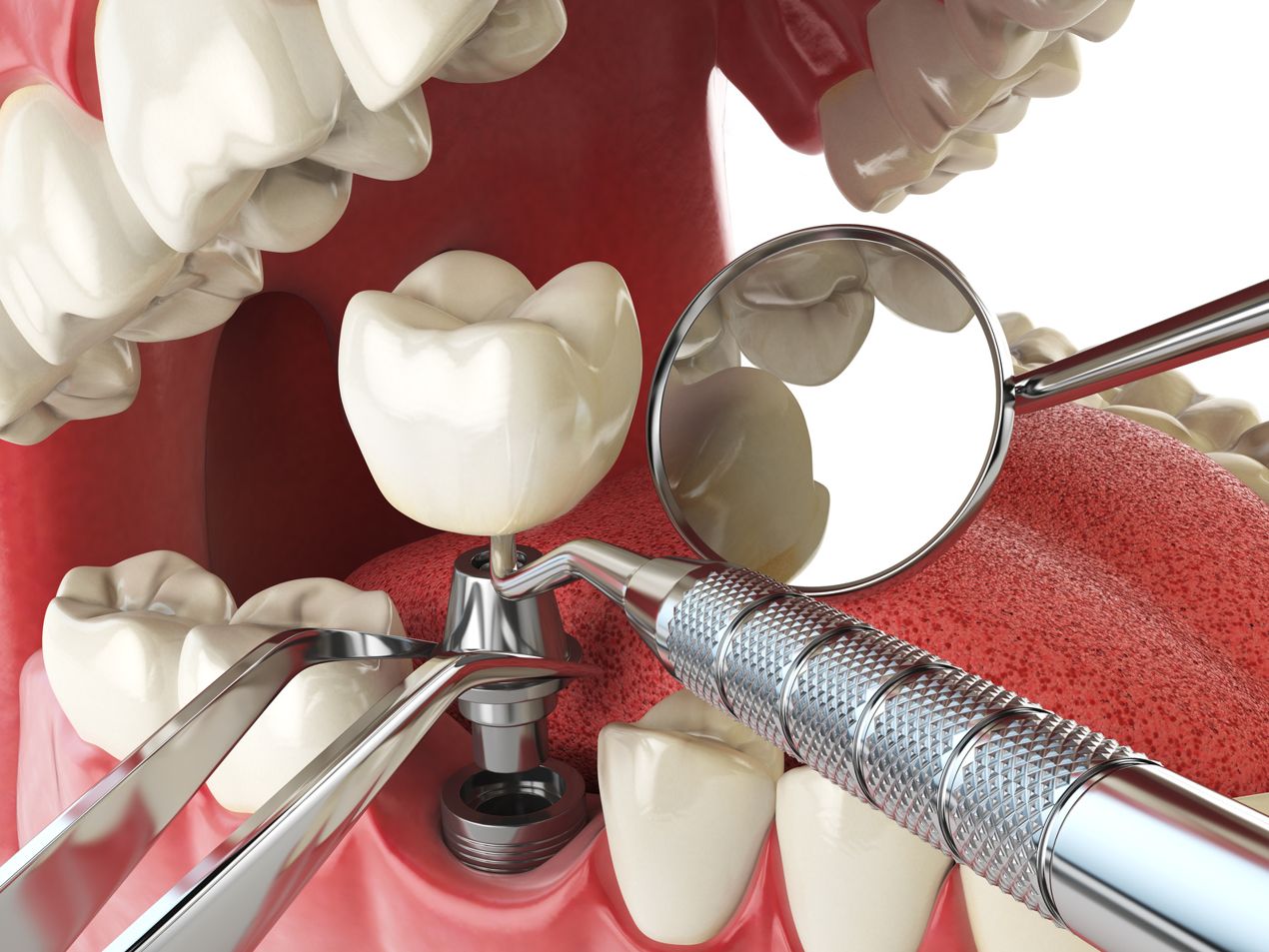 Professional services in the field of dental prosthetics
Our dental surgery provides procedures in the field of dental prosthetics. This field deals with the reconstruction of cavities and damaged teeth. We offer a complex and professional service.
Lacking teeth is not only an esthetical problem. Only few realize that any kind of tooth lacking influences negatively chewing process which results in problems with the digestive system. To avoid this kind of problems you should take care of your health by starting with your teeth.
What do we do exactly?
In order to meet all your expectations and demands, IdealDent Gdynia offers a wide range of different types of cavity fillings. We make permanent dental prostheses (e.g. dental crowns, implants) fixed on patient's own teeth, implants or removable dentures. Also, it is possible to make components of precision attachment — retentive elements that are custom-made in each individual dentures on request. See below a full list of our dental prosthetic services.
1. Veneers
It is a professional procedure and its main aim is to improve the esthetics of teeth by attaching thin plates to the external part of teeth. Veneer plates are mostly made of porcelain and they are attached to teeth with the use of a special glue. By fixing a veneer, you can reduce such imperfections, as:
An uneven color of teeth,
An uneven shape and length of teeth,
minor instances of missing teeth.
This process is safe and it gives a satisfactory effect for long. Porcelain veneer guarantees a natural teeth look and it is hypoallergenic.
2. Inlays
Inlays are independent fillings which can easily substitute old fillings. This type of dental prosthetic is mainly done on molars or premolars. Thanks to the materials used in inlays (porcelain or composite), they have a great durability. This type of treatment is especially recommended to patients with a substantial amount of missing teeth, which are a result of caries (i.e. in the contact area between teeth). It is also a great solution for a patient with a significantly damaged tooth crown.
This procedure is usually done during two visits. The procedure consists of: tooth preparation, taking an impression, and creating a model for a dental prosthetic laboratory (the laboratory makes an inlay on the dental surgery's behalf). An impression of neighbouring teeth is made too. And what is more, we examine the colour of patient's teeth in order to select a perfect match colour for the inlay. A prepared, ready inlay tooth is fitted with the use of a special dressing and after 2-3 days it is fitted with the use of a special cement.
3. Fixed bridges
A prosthetic bridge is one of the effective methods of filling the lacking teeth. It is considered as a fixed, permanent filling, which main objective is to supplement a gap or gaps in the dental arch. It is a technique that utilizes the remaining personal teeth of a patient. The remaining teeth are called the pillar teeth. The prosthetic bridge comprises of prosthetic crowns, which are fitted onto the pillar teeth; and of a span, which connects both pillars and it supplements a missing tooth or teeth. This procedure is safe and painless.
4. Implants
Dental implants are one of the most popular methods of filling the lacking teeth. A dental implant is a little titanium screw that is placed in the jawbone to replace the missing root. Implants are used both in individual instances or in bigger, more extensive instances of missing teeth.
5. Acrylic dentures
It is the least expensive denture option. It is also the only dental prosthetic procedure covered by the Polish government (the National Healthcare Fund). It is a removable denture used in case of large amount of missing teeth or a complete anodontia. It is important to stress that each patient needs to get used to his acrylic dentures and needs to learn how to use it properly.
6. Cast partial dentures
Cast partial dentures are utilized in case of a large amount of missing teeth, when because of some reasons it is impossible to use fixed bridges. It is a type of precise filling with a reduced plate. A metal skeleton of this denture is molded as whole with maintaining of a special precision and care. The dentures are equipped with different sorts of improvements, including metal clasps – elements which hold the whole dentures. They are resilient so they stay more accurately on the teeth and the whole dentures do not slip or fall off while eating, for example.
7. Overdentures
Overdentures, also called overlay dentures, are removable dentures. A remaining dentition or fitted implants are used in this method. Special implants are placed in the root canals; they are a support for the dentures. This type of dental prosthesis characterizes of great convenience, stability, and it meets esthetic expectations of a patient.
Such a wide range of procedures helps to provide services to a large group of patients.
dernity and professionalism
Since the comfort and safety of our patients are of greatest importance to us, each procedure is preceded with a thorough consultation with a patient. All our operations are executed with a full devotion and professionalism. Each patient has a different problem; meaning, each patient needs an individual approach which leads to finding an optimal solution in each case.
Dental prosthetics is a fast developing field of dentistry and because of that we are able to guarantee you not only the best service, but also modern and natural-looking dental prosthesis. They are esthetical, functional and they do not interfere with everyday life activities. What is more, modern dentures do not affect eating and drinking processes.
We strongly encourage you to take advantage of dental prosthetic services at IdealDent in Gdynia. A complete and proper dentition increases the comfort and self-confidence; furthermore, it influences mouth and the digestive system health positively. It is worth taking care of yourself and giving yourself to the hands of professionals. We invite you to IdealDent Prosthetic Surgery in Gdyni