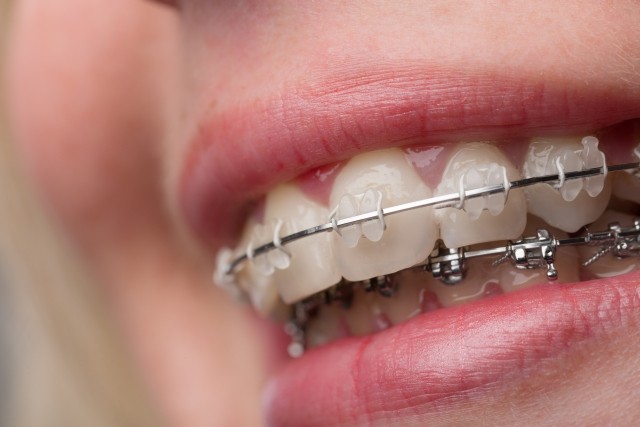 What is orthodontics?
Orthodontics is a field of dentistry that focuses on tooth malpositionings and nonalignment treatments. In IdealDent dental surgery we use removable and fixed appliances. In case of suffering from defective malocclusion or incorrect tooth positioning, you should consult your dentist and plan your treatment immediately.
Professional services in the field of orthodontics
Tooth malpositioning and defective malocclusion are very common health issues, that is why there are more and more new treatments for them. A correct alignment of teeth is very important not only because of an esthetic value, but also because of a health value. It influences a proper work of teeth. An incorrect work of teeth may lead to quicker teeth damage, teeth wear or even falling out. What is more, it may cause sinus troubles and a chronic headache.
In IdealDent we offer professional orthodontic services — contact us today!
Braces are associated with adolescence time, but to treat defective malocclusion it is never too late! We invite children, teenagers, as well as adults to start our treatment.
Modernity and esthetics
Orthodontics is a fast developing field of dentistry so any kind of stereotypical notions about it should be considered as outdated. Orthodontic appliances have become unaesthetic set of wires wrapped around teeth long ago. Their look has improved considerably allowing the wearer to choose, for example, the colour of elastics in one's appliance, which enhances its interesting and original aspect. We offer a subtle, almost invisible appliance for more demanding clients. No appliance hinder everyday activities or interfere with eating process.
Types of orthodontic treatment
IdealDent surgery offers several interesting solutions of treating defective malocclusion and tooth malpositioning. Before a final decision regarding a type of treatment you should consult our dentist who will help you in choosing the ideal treatment in reference to your needs and expectations.
We use three different types of treatment, meaning:
This method is mainly used within young patients who have both permanent teeth and milk teeth. These braces allows to develop dental arches and facilitate an appropriate growth of the jaws. They are a perfect solution for children and adolescence who suffer from defective malocclusion and tooth malpositioning and want to avoid wearing fixed braces in the future.
The second group of orthodontic appliances is fixed braces. They are attached to one's teeth with the use of a special glue and they remain permanently there throughout the whole treatment. This type of treatment is a long-term therapy, but it gives a permanent and satisfactory result. Because of the braces work, teeth are starting to move and align correctly. The latter process may be an unpleasant experience. When choosing fixed braces, you must remember about more thorough mouth hygiene and eating more thoughtfully. Nevertheless, this is only a minor inconvenience that everyone is able to get used to, especially when you remember about the final effect of the treatment.
Fixed, self-ligating appliance:
This appliance is a modern solution for our patients, since it gives incredible possibilities. A unique structure of locks allows a quicker and more effective process of treatment and by that check-up visits are more seldom. Thus, the treatment guarantees fully satisfactory effects in shorter time!
It is an innovative set of transparent corrective aligners. They are custom-made and specially ordered for each patient's teeth. Aligners are very comfortable, safe and they are an esthetic way of treatment. Each aligner is replaced every two weeks so your teeth will move step by step. As a result, teeth are positioned correctly.
The phases of treatment
The right and effective orthodontic treatment requires a consultation with a qualified dentist. During the consultation, you will discuss details of your treatment. Firstly, the consultation begins with a thorough diagnosis – taking X-rays and a plaster cast of your dentition. Next, you will learn your plan of treatment and all its phases. After that a suitable appliance will be selected. Finally, your appliance will be fitted and your dentist will determine dates of your check-up visits. You can take X-rays after taking off your appliance to assess precisely the effects of your treatment. To maintain these effects, it is advisable to make regular check-up appointments.
Our orthodontists treat a patient from the beginning to the end of the treatment with full professionalism and devotion. What is more, they provide regular check-ups in order to examine progress of treated teeth.
Take care of esthetics and your health
It is crucial to remember about the teeth positioning and the right occlusion. These two aspects of teeth are important not only because of esthetic issues, but also because of health issues. Thus, it is worth taking care of an appropriate teeth positioning. Both young and old age are suitable times to start the treatment and that is why we invite you cordially to first consult our orthodontists and later undertake a treatment.